Regular price
$14.00 USD
Sale price
$12.00 USD
Unit price
per
Sale
Sold out
Share
He's the new Vet with something to hide.

She's got a wedding to organise.

Meggie's in Barrington for her brother's wedding, local Vet Angus Hamilton. After working overseas for years, she hasn't told her family she's not going back.
And she hasn't told them why.
Max is the Locum Vet hired to help out in the lead up to the wedding and during the honeymoon.
But he doesn't arrive alone.
They each need to move on from their past. When their secrets are revealed, will it empower them, or tear them apart?
View full details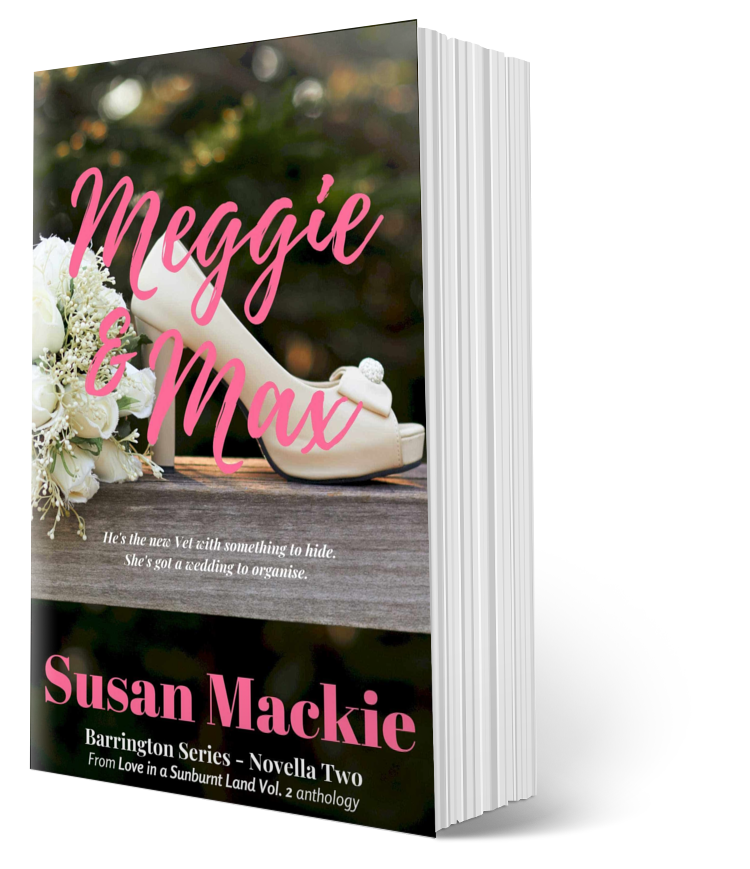 Meggie & Angus + One
A beautiful story and as enjoyable as the previous three books in "The Barrington Series". Meggie has returned home to Barrington for her brother's wedding, local vet Angus Hamilton. Max is the locum vet hired for three months to cover the wedding and honeymoon, but he is not alone.
Both Meggie & Max have secrets from their past which has hurt them. Will the past destroy them or will they take a chance on love?
A thoroughly enjoyable and engaging story around old and new characters in this series that I love. I always enjoy the interactions of people in small country towns - the heart of our country. Susan's books emphasise this - neighbours helping neighbours. Highly recommend this book and the whole series 🌟🌟🌟🌟🌟
A Sweet Must Read
If I could choose to live anywhere, Barrington would be at the top of my list! I feel like the residents of Barrington are a part of my real life including the newest characters that my heart instantly warmed to. Going back to Barrington is like catching up with life long friends.
Susan has a way of drawing you in to the storyline and making fiction feel like reality and for me this is so important. I want to feel everything, the emotion, joy and love of the characters, I want to see through the characters eyes and laugh, cry and love with them. I get this every single time with Susan's writing!
I am left with such a warm feeling in my heart after reading anything by this author but I also feel such sadness not knowing when I'll get to return to Barrington next! I wait in anticipation @susanmackieauthor!! 😉
Arriving in Barrington around similar time after both being through personal ordeals, Meggie and Max cannot hide that there is an instant attraction between them when they meet, but will the secrets of both their pasts hinder any chance of the possibility of a future relationship between them?
A must-read!
On a cold winters evening, curled up under a throw with a tea.... Meggie & Max is the perfect read. Susan Mackie takes the reader on a trip to the scenic town of Barrington, known for its river and snow fall on the Barrington tops. The location itself makes this novella a must read!
Meggie arrives in Barrington to help plan her brother's wedding. She has been living in the Napa Valley, USA and intends to stay in Barrington for good. She involves herself in planning and shares her passion for event organisation with the local people. Meggie loves the town of Barrington. Her relationship with her sister-in-law grows and develops beautifully throughout the novella.
Max arrives in Barrington to work for local vet, Meggie's brother, Angus. He arrives with his son Tommy and they soon become part of the Barrington community. People help one another in and Max is pleasantly surprised by the kindness and personal contact with pet owners.
Max and Meggie hit it off straight away. They both have their secrets and help one another along the way as they come to terms with what has happened in the past. Their romance is pure and warmhearted, just as the characters are themselves.
If you've read any of Susan Mackie's novels, reading Meggie & Max will feel like coming home. The characters from Susan's Barrington series are a part of the story and I love the connection - the community feel is very real. Another page turner written by the amazing Susan Mackie.
Such a fabulous story
I loved being back in Barrington, it was like coming home to family as we meet newcomer Max and his son they have been through some tough times and a new start in this beautiful town maybe just what they need.
Meggie is home from The States for her brother's wedding, her decision to not go back is fabulous news for Angus and Rose and when Meggie meets the new locum vet Max and his gorgeous son life is suddenly making lots of sense and with so much joy.
A beautiful story, fabulous characters and a fabulous small country town that is just the place to start over.
A sweet novella
A sweet romantic novella that will make you smile.
I've enjoyed my return time to Barrington even though it was only brief and it's left a warm place in my heart.
After returning from overseas, Meggie's back in small town Barrington for her brother's wedding.
She plans to stay but hasn't told anyone yet of her decision or why.
Max arrives to begin work at the local vet and he's hoping for a new start with his young son.
Both need to move on and heal from the past.
When they meet sparks fly but secrets are holding them back from being their true selves.
Can they overcome this and will love win them over?
A tender rural romance with a small dash of mystery.
Readers are also graced in the pages with familiar faces from previous books and we see how life is treating them as we witness new characters going about every day life.
Community country vibes, close knit region feels, rustic town charm, matters of the heart, secrets and drama all bundled together for a fast paced, tiny package read.
A storyline that will keep you entertained and engaged all the way through.
I look forward to my next trip to the area away from the city called Barrington.