Regular price
$14.00 USD
Sale price
$12.00 USD
Unit price
per
Sale
Sold out
Share
She swore she'd never trust again.

Buying the old courthouse near the Barrington Tops ragged mountain ranges was a fresh start for Nicole and daughter Lucy.
Renovating the run-down building into a home and B & B accommodation would help them recover from the trauma they had endured.
Nik promised Lucy it would be just the two of them. Always.

But the removal truck getting stuck in the driveway on the first day threw them into neighbour Robbie's path.
He sorted the problem, then returned with son Harry to help them unload. Nik instinctively liked him, but she couldn't trust her instincts.
And more importantly, she vowed to keep the promise she'd made to Lucy.
Cover: Background photo of the Bucketts Mountain (Barrington) by Trudy Schultz @accommodation_gloucester
View full details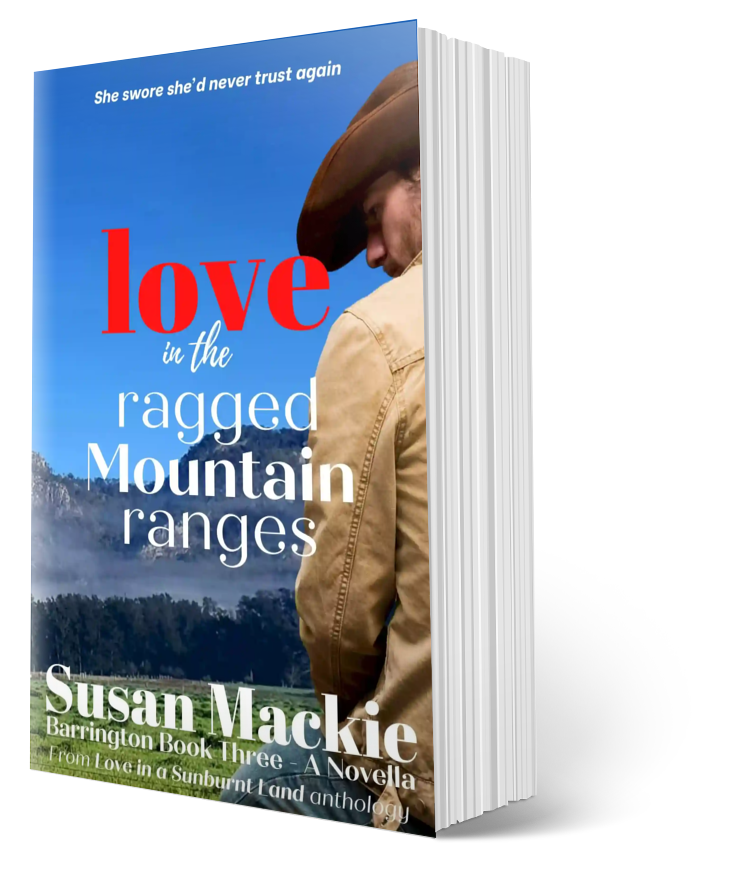 Beautiful Setting and Characters
I can't get enough of Susan's writing! It's so wholesome, warm and comforting like freshly baked muffins! Like always with Susan's books I was drawn into the characters and loved the way they connected.
After a traumatic experience Nik and her daughter Lucy are after a fresh start. Well they certainly found the right place to do that! No better place than Barrington! Buying the old courthouse and renovating it will be just what is needed to elude their horrific past.
Soon after arriving and finding herself in a situation, Nik is aided by the the lovely Cowboy Dad Robbie (Oh and who wouldn't want themselves one of these 😉) He's kind and strong and handsome and Nik is noticing a little too much!
But Nik made a promise to Lucy and she's not about to break it. She will never put Lucy or herself in a situation where they have to deal with what they previously went through again!
But will Cowboy Dad Robbie be just the person both Nik and Lucy need to rid their fear of the past and allow them both to move on?
As always I loved being back in Barrington and while the focus here is more on the main characters above, you will see some of the characters from the first two books in the series pop up throughout the story!
Love, humour, passion, blissful locations, appreciation of the environment, romance, fun!
Love in the Ragged Mountain Ranges is about fresh starts and learning to trust again. The Barrington Tops and surrounds are described beautifully. This story is tender and compassionate. It touched my heart.
I Highly recommend this one
A beautiful story of a woman and her daughter gaining strength and trust after being in a terrible situation, Nik and her eleven year old daughter Lucy sell up and move to beautiful Barrington Ranges to do up an old building and start a short stay holiday house.
Nik is never going to leave her or Lucy vulnerable to a man again but when they arrive at their new home they are helped by their new neighbour Robbie this proves to be a new start in life as they become friends and Robbie and his son Harry prove that not all men are bad.
Robbie is a widower and he and his son run a building business as well as have horses and a lovely dog Scout, meeting the new neighbour proves to be a wonderful, Robbie takes doing the repairs to the house and spending so much time together his heart is finding that love can be found again.
This was a joy to read I had lots of smiles as I got to see Lucy and Nik put their past behind them and with the help of the gorgeous Robbie, his son Harry and the horses and see them find the love and happiness that they so very much deserves, a fabulous read.
Short but oh so sweet
When a book is so good that all three of us ending up reading it outside of the book bitches book club monthly read and we all love it, we feel it needs its own extra special shout-out because it's a book everyone should read.
We all absolutely adored Love in the Ragged Mountain Ranges by independent Aussie author Susan Mackie, the third book in the Barrington series.
It's a novella and won't take you long to read; but it's jam packed full of fabulous characters and a plot that doesn't disappoint. The cover may scream Brokeback Mountain; but this rural romance (a genre that none of us would usually read) had us all engaged from page one and we could not let go until we reached the final page.
Thanks to Susan for another brilliant read. Bring on book four!