Regular price
$20.00 USD
Sale price
$19.00 USD
Unit price
per
Sale
Sold out
Share
Five new stories from Susan Mackie, Rhonda Forrest, Louise Forster, Leanne Lovegrove and Emma Powell.
Brace yourselves. Five single-dad, stories that will bring you to tears, laughter ... and leave you just a little bit breathless.
View full details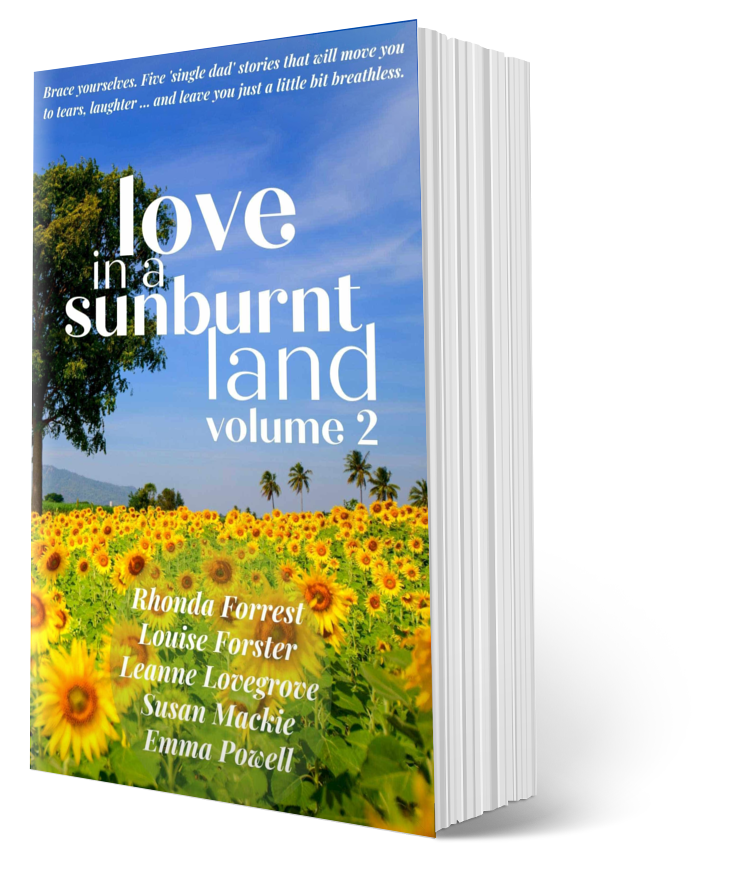 Captivating, heartfelt, uplifting and completely swoonworthy!
Love in a Sunburnt Land Vol 2 is an anthology of novellas showcasing the beauty of Australia by the same five talented authors who brought you vol 1. This is romance at its best! Each novella is captivating, heartfelt, uplifting and completely swoonworthy. In particular, the sexy, single Dads who will win over yours and the female protagonists' hearts. The stories tell of a woman who comes into the mens' lives at just the right time and is loving towards them and their children.
All my Heart by Rhonda Forrest is a novella that has it all! Small town vibes, beautiful beach setting, friendship and romance with a whole lot of heartfelt emotions and laughter. Tess, an English teacher moves to Tranquil Beach where she finds love of a community and changes many lives.
The Green Place by Louise Forster is a sweet and sexy romance that will make your heart sing. Grace, arrives in Binowee to interview single Dad and sexy farmer, Joe Mathews. In no time, Grace has made a beautiful connection with Joe and his son, Finn.
Love in Between by Leanne Lovegrove is a touching story of romance, new beginnings, love and loss. It is set in the country town of Bellethorpe where community is everything. Bridie is there to support her townspeople and newcomer, Caleb. It is an inspiring story of hope.
Meggie & Max by Susan Mackie is a story takes you on a trip to the scenic town of Barrington, known for its river and snow fall on the Barrington tops. The location itself makes this a must read! Meggie and Max hit it off straight away. Their romance is warmhearted and pure.
The Song by Emma Powell is a lot of fun!Music, wine, a small town and a sexy cowboy! Tina and Clay find one another in the small town of Echuca. Clay's bond with his daughter is beautiful. The pace, character development, drama and romance are all balanced perfectly.
I highly recommend this anthology! Each novella is heartwarming and makes one feel at home in each town. Each and every novella is a must read. I loved them all and they each complement another perfectly to create an anthology you will not want to put down.