Regular price
$20.00 USD
Sale price
$19.00 USD
Unit price
per
Sale
Sold out
Share
Love in a Sunburnt Land will take you on a journey from the tropical coast to the fertile plains and magnificent high country, where quick thinking and endurance is a way of life and where second chance love might happen, right when it's least expected.


Love on the Sweeping Plains by Leanne Lovegrove                                                                    Desperation drove Tori Christensen back to her childhood town, but that's not why she stayed. Fleeing the end of her marriage, she vows never to be hurt again. But old flame Zac Coleman is the star on a reality TV dating show, problem is, Tori isn't a contestant.   


Love in the Ragged Mountain Ranges by Susan Mackie
Nik swore she'd never trust again. But the removal truck getting stuck in the driveway on the first day threw her into neighbour Robbie's path. But Nik made a vow that it would just be her and daughter Lucy, and she would keep her promise. Always.


Far Horizons by Emma Powell
When a second chance at life gives Molly a second chance at love, will she take it? Local police sergeant Jack, reminds her what it feels like to be truly loved. But can she trust him? And when her past and present collide, she fights to save herself and her future.


Love by the Jewel Sea by Rhonda Forrest
Frankie knew one thing. She'd return to the city when the job was done. But will an accidental meeting with local farmer Simon, change her perspective on what is important in life and remind her of her ethics. Or will it send her running in the opposite direction?


Core of my Heart by Louise Forster
After a recent breakup, an exciting offer had Madeline moving back into town, definitely sworn off men. Then her teenage crush walks into her life. Ash's intuitive and gentle questioning, help her come to terms with her past. But is that enough, can she trust and love again?


Will they take the beautiful gift, a second chance at love? Will they succeed in leaving their past behind, or does it follow them home?
View full details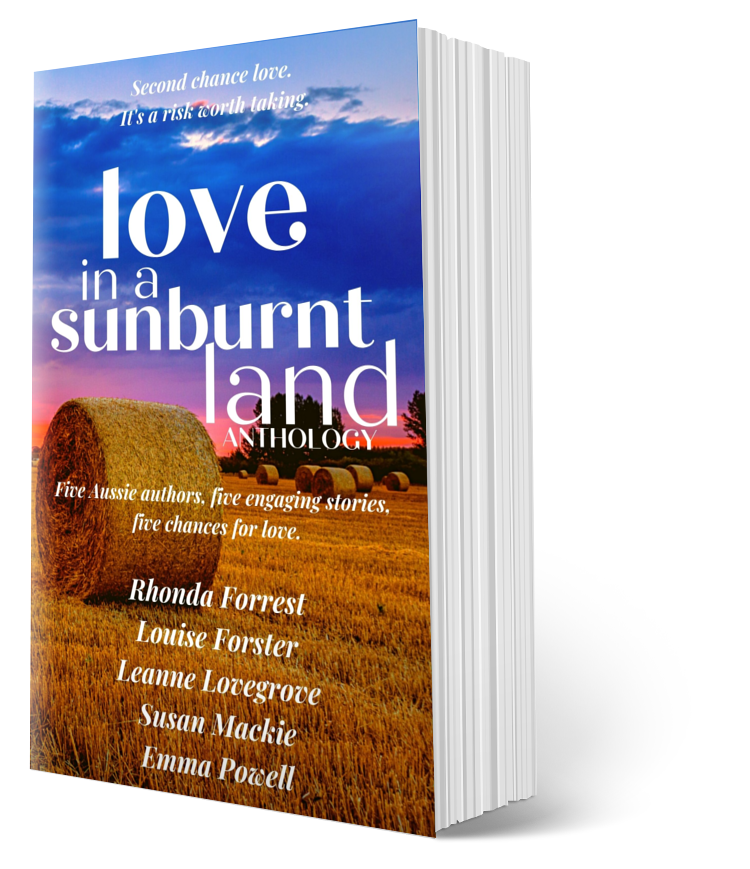 A blissful read!
Love in a Sunburnt Land Anthology is written by five Australian authors. Each story is set in a different Australian country town. I love a good romance novel and this one has five in the one book! Rhonda Forrest, Louise Forster, Leanne Lovegrove, Susan Mackie and Emma Powell each write stories that are unique, engaging and heartwarming.
Love on the Sweeping Plains follows the story of Tori who returns home and reconnects with the local vet, who is the star of a reality TV show to find a wife. It is a fun, feel good, small town romance.
Love in the Ragged Mountain Ranges is about fresh starts and learning to trust again. The Barrington Tops and surrounds are described beautifully. This story is tender and compassionate. It touched my heart.
Far Horizons Love Story had the teacher in me happy to read about Molly, a passionate school teacher. She meets Jack and teaches his son Lachlan. Powell writes about grief from an adult and child's perspective with such care and sensitivity. Readers will experience romance, crime, drama and life altering decisions.
Love by the Jewel Sea is a meaningful, reflective and contemplative novella. Frankie is a self absorbed workaholic who must learn what is important in life. Dingo Beach and its people may just teach Frankie valuable life lessons. This was a blissful read and I felt like I had drifted away into the beautiful Dingo Beach location.
Core of My Heart is a passionate, whirlwind romance between Madeline and Ash. Madeline returns to her hometown to run the bakery she buys from her aunt and uncle.
Each and every story is enjoyable; filled with love, humour, passion, blissful locations, appreciation of the environment, romance, fun, life changing realisations, meaning and much more. I love each novella and I would highly recommend this anthology! What a blissful read.