Regular price
$18.00 USD
Sale price
$16.00 USD
Unit price
per
Sale
Sold out
Share
Can one bad decision change your life?
While recuperating from her biggest mistake, Harriet's had time to plan a fresh start, away from the city. With a business plan on her laptop and determination in her heart, she leaves Sydney, heading north. It's a long drive and she's only just beginning to heal, so she's booked a stopover at Barrington Homestead on the way.
Harriet meets Drummond Murray on the road to Barrington. He's a cattle farmer and fifth generation local. Impeccable manners but not much warmth. She has no choice but to accept his assistance, but she's not keen to see him again.
In contrast, Ben Evans is a local stock and station agent, good humoured, warm and welcoming. Except Harriet isn't looking for romance and she's keen to continue her journey north.
Circumstances conspire to keep her in Barrington and after months of feeling helpless, feeling needed strikes a chord.
A cast of local characters and new friendships make her wonder if this might just be her place to start over.
Cover: original watercolour painting by @fionahayesart
View full details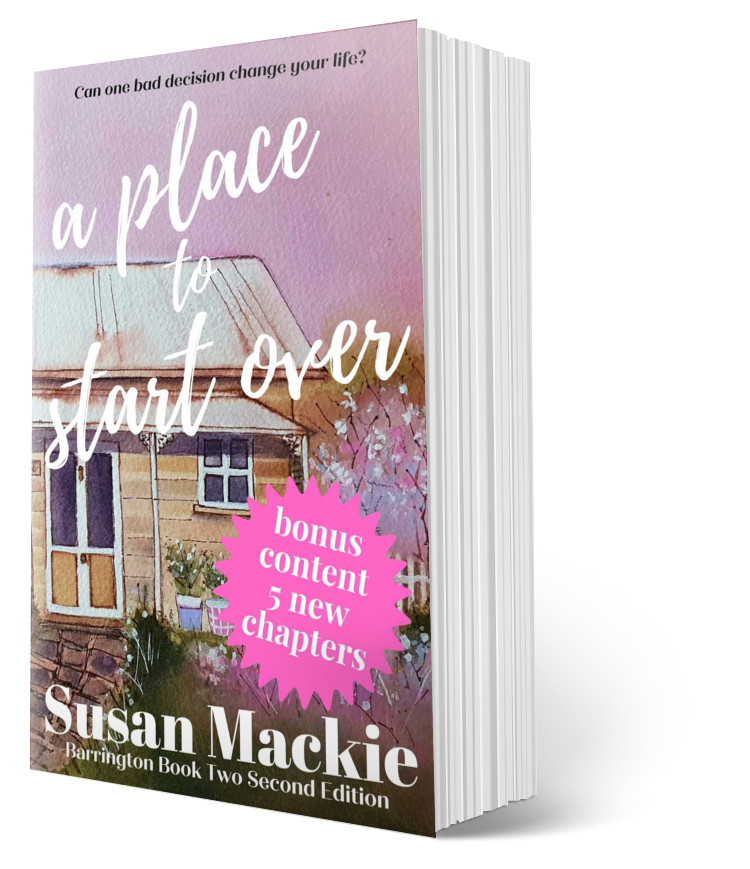 Like Melted Butter on Toast
I fast fell in love with the small town of Barrington and its people in the first book, 𝗖𝗵𝗮𝗿𝗹𝗶𝗲'𝘀 𝗪𝗶𝗹𝗹 and after reading 𝗔 𝗣𝗹𝗮𝗰𝗲 𝘁𝗼 𝗦𝘁𝗮𝗿𝘁 𝗢𝘃𝗲𝗿, Barrington without question would be where I would want to go to start over!
𝗦𝘂𝘀𝗮𝗻 𝗠𝗮𝗰𝗸𝗶𝗲 has literally brought the town and its people alive from the pages! The warmth, kindness and good spirit of all the characters flows from the pages like melted butter on toast.
If we had more people like the residents we meet in Barrington, the world would be a much better place! I absolutely adore the way they band together to help each other especially in times of crisis.
Harriet (Harri) soon feels the same way about the people of Barrington when after hitting a roo and damaging her car, she is stuck in the town while repairs are made to her car. Local farmer, Drum Murray even offers to loan her a car!
While staying a few days at a local B&B Barrington Homestead, owned by Rose Gordon and her husband Angus. Harri soon makes lovely connections not only with Rose and Angus but with a number of locals especially after local cafe owner Debbie has some pregnancy complications and Harri jumps right in to help.  
Love in many forms is found in Barrington and one small love is found in the likes of Billie, Drum's daughter who takes an instant liking to Harri and declares that her and Harri should definitely be friends. Billie is like a breath of fresh air and you honestly can't help falling in love with her!
I love Susan's writing style and the way she brings you into the pages like you are a part of the community yourself and the story is literally happening around you! A delightful heart-felt read that leaves me wanting to return to Barrington and catch up with the locals again in the near future!
A breath of fresh air!
This book came into my life like a breath of fresh air, just as Harriet walks into the town of Barrington.
Harriet intends to leave Sydney and stay at Barrington Homestead on her way North. What she doesn't intend to do is hit a roo and stay in Barrington whilst her car is being fixed. The town and characters are positively charming. Harriet falls in love with the place and the locals, just as I did. A Place to Start Over took me on a cozy wander through country homesteads with horses and cows, bushland, rivers and a small town with character oozing from every aspect. I felt welcomed and part of the community myself. Harriet arrived in the most ideal town for her.
The characters are kindhearted and delightful. Drummond, who is there to assist Harriet when she hits the kangaroo with her car, helps her to feel comfortable, offering her his car whilst in town. Rose and Angus, owners of the Barrington Homestead offer a place to stay and true friendhship. Laura, a local farmer and recluse opens up to Harriet and we then delve deeper into Harriet's story too.
Harriet assists Deb in the cafe and Ben Evans in his real estate business. Her ideas are fresh and she starts to feel valued, in contrast to her time in Sydney where she felt anything but. I love how Harriet's confidence increases as she assists the local people and is appreciated for who she is. Harriet is the perfect protagonist. She is a strong female character whose ambition and openness to change leads to a true home.
A Place to Start Over is a must read! I took time out to enjoy this novel of community, change and friendship. Susan Mackie's writing is warm, welcoming and thoughtful, just as her characters are.
I loved this one
I loved being back in this beautiful town of Barrington, it was like coming home to family and friends with such a warm welcome after reading the first book in this series Charlie's Will, this time we meet Harriet, after a rough time in Sydney Harriet wants a new start and is on her way to finding it when she hits a kangaroo and her life changes for the better when she and the town open their arms to each other.
Harriet is still in pain from her past but she is strong and determined, but hitting the kangaroo stuns her a bit thank heavens there is someone there to help after her car is damaged, Drummond Murray is tall and eager to help even if he comes across a bit standoffish. She has booked a few nights at a B&B at the Barrington Homestead where she meets Rose Gordon and her partner Angus she instantly feels welcome.
Drummond offers the use of his spare car while hers is being repaired and soon Harriet is finding her way around the small town, where she meets real estate and stock agent, Ben Evans and her thoughts about finding a place to start over seem to be coming to fruition in this small and welcoming town. Harriet is soon making friends and the town people are loving her and the help she is giving them.
But her heart is also opening up to the strong and handsome Drum Murray and his young daughter Billie, but Harri is keeping a lot to herself about her past and before she can look to the future she needs to open up. Drum is finding it harder to forget Harri he sees her as strong and beautiful but there is a vulnerability about her as he gets to know her better.
This is a beautifully written story filled with heart-felt emotion as Harri and Drum find love and happiness in this town with so many wonderful characters, I want to move there and become a part of this town and I do hope that we can visit again, there are some other people that need their HEA in the beautiful way that Susan Mackie has given Harri and Drum theirs. I do highly recommend this one, it is a true romance and sure to leave the reader smiling.
Rural romance with a lot of heart!
I have been so keen to revisit the town and characters of Barrington after reading Charlie's Will and I was in for treat and left feeling very satisfied.
Harriet leaves Sydney in search of a place to land where she feels the warmth and inclusivity while recuperating physically and emotionally from her past.
As she enters Barrington tired and drained she encounters a kangaroo mob on the road and what she thought was a inconsiderate driver.
Her small car no match for a kangaroo.
Staying at Barrington Homestead she feels an instant connection to Rose and her husband Angus.
The town giving her a vibe of happiness as she encounters more locals in the Cafe.
A prolonged stay while the car is being repaired is the perfect antidote for connections and seek clarity on what fulfilment looks like for her.
Local farmer Drum is recovering from a marriage split and charting the future for his young daughter.
Respected locally and proud of his family legacy he is wary of having his heart broken again.
Harriet not only felt like the community were her people, she started to see opportunities to build a new life.
Falling in love with a derelict cottage and buying it was an impulsive but great decision until she discovered her neighbour Drum had always wanted to buy it back.
As relationships forge, droughts continue and fires threaten she becomes very local but still has emotional baggage to unburden and scars that will be revealed if she opens her heart.
The essence of realness is captured in every sense in this beautifully written story, it had so many elements of rural life reflected and social intricacies explored.
This is not just a rural romance it has a lot more substance which makes reading this author rewarding.
A highly recommended read.
A divine second novel
Harriet has had enough of Sydney and needs a fresh start. She's booked a short stay in Barrington before she heads north to start a new business; but when her car collides with a kangaroo on the outskirts of town she quickly realised that she is going to be there for a few weeks and not a few days.
Harriet quickly dives into small town country life; finding the women in town to be her kind of people. The men aren't bad either; but why is Drummond being so distant after being so helpful when she hit the roo? A complete contrast to Ben, who's falling over himself to help her settle in.
Harriet's not looking for love or a country town to start her business up in; but could these two things be exactly what she needs? To find out, you're just going to have to read A Place to Start Over (APTSO) by independent author Susan Mackie.
I have been eagerly awaiting APTSO, book two of the Barrington series and it was everything I was hoping for and more. I laughed out loud, cried and most certainly did not want it to end; but when it did I let out satisfying sigh and felt very happy. It was just that good.
The plot starts just over a year after the first book (Charlie's Will) finishes and it was like coming home to old friends seeing many of previous characters reappear. Whilst I also highly recommend Charlie's Will, you don't need to have read it to appreciate APTSO. Mackie has written it so well that it's easily devoured as a stand alone book. Her writing is strong and she gives us an engaging, fun and emotive plot; characters that you'll want to befriend; and such descriptive phrases that you can easily visualise life in Barrington.
The book is classified as rural romance but don't let that put you off. I wouldn't normally read from that genre at all; but I loved APSTO and would classify it as chick-lit or life-lit, with a side of rural romance. There's a whole heap more going on that rural romance; making it an impossible book to put down. I read it in one sitting and cannot wait for the rest of this series. It's an absolute ⭐️⭐️⭐️⭐️⭐️ read, so support an Aussie Independent author and get yourself a copy.