Regular price
$17.00 USD
Sale price
$15.00 USD
Unit price
per
Sale
Sold out
Share
Rose knew one thing. The farm would be hers when Charlie died.
Strong and sassy, Rose is the sole heir to five generations of cattle country and the magnificent Barrington Homestead.
But Charlie's will is not as she expects and the appearance of Angus Hamilton on the day of the funeral unsettles her. Handsome and single, she's attracted to him. But can she trust him?
The ongoing drought and discovering she has friends, if not family, in the small rural community complicate matters.
More sinister threats lurk in the shadows.
Will Rose give up city life to face the threats head on and fight for her inheritance?
Cover: original watercolour painting by @fionahayesart
View full details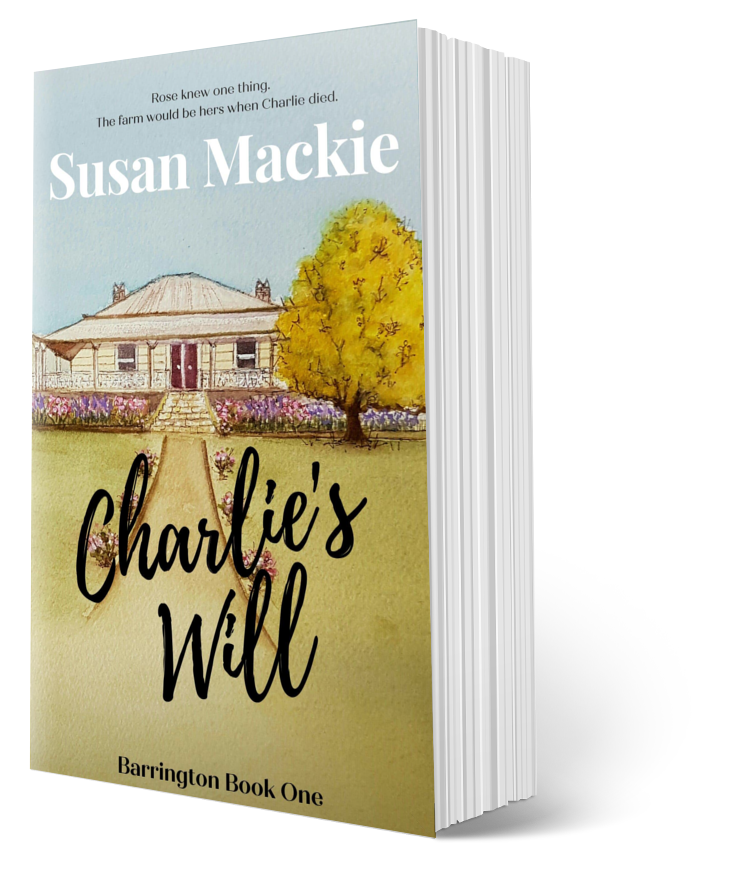 A beautifully crafted rural romance!
Friends, this is a book I've had for about a year and just got to reading but I wish I hadn't waited so long.. the only benefit may be that we may be a lot closer to book two of the Barrington series I'm hoping so because I really fell in love with Rose Gordon and the lovely Dr. Angus Hamilton and in fact, the whole community and I can't wait see what the future holds for them!
When Rose's grandfather, Charlie passes away she becomes heir to the grand old Barrington Homestead but when Charlie's Will is read there are some terms and conditions in it and a surprise co-heir! Angus Hamilton! How did he worm his way into Charlie's Will? Rose doesn't know what to think and if she can trust Angus. Is he part of the consortium trying to purchase the land? Is that why he made his way into Charlie's life and will?
Then there is the big man hiding in the shadows of Barrington scaring Rose out of her boots! Charlie never told Rose about the cutting of the fences but Rose now wonders if it was a big plan to scare Charlie away... but did someone scare Charlie to his death instead?
A beautifully crafted rural romance with a dash of suspense made this the perfect read! I loved the small town feel and the country characters! I love the feeling of a close knit rural community and this certainly provided just that!
Captivating, heartfelt, suspenseful and a wonderfully crafted plot. Charlie's Will is a page turner!
Charlie's Will is a small town romance novel set in Barrington, NSW Australia. Rose returns to her hometown when her grandfather, Charlie passes away. She returns to the beautiful Barrington Homestead and the beloved animals living there. She is shocked to realise that her grandfather's will is not as simple as expected and also includes local vet, Angus Hamilton. Rose does not trust Angus at first and wants to know why her grandfather placed his trust in him. Moving back to the homestead, Rose is threatened and someone is lurking around the property. Soon Rose realises that the threats could have something to do with the company attempting to buy the majority of farms in the area. Charlie was aware of the threats and refused to sell the Barrington Homestead. Rose has big decisions to make about her future and whether or not she will keep the home that has been in their family for generations.
Susan Mackie's quote at the beginning intrigued me; 'Do you drive by old homes and wonder about the lives of those that built them, lived there, loved and lost?' I often look at heritage homes and wonder about the history and the people who lived there. The Barrington Homestead is magnificent. Susan's descriptions of the home and farm make me want to move to a property and enjoy the sprawling vistas that we read about. ***
I love to read stories where the main characters have a love of animals. Angus shares his love of animals with Rose, who slides back into farmlife with ease. Rose knows horses and I enjoyed reading about the rides taken and landscape appreciated along the way. **
I would highly recommend Charlie's Will, with its steamy romance, twists and turns and small town charm. Susan's short story 'Love in the Ragged Mountain Ranges' was heartfelt, compassionate and tender and also set in Barrington. I was very excited to read Charlie's Will after reading Susan's short story. Susan writes beautiful stories and it is obvious through her characters that she has a love of animals.
Fabulous story
This is a page turner of a book, a lovely rural romance with a fair bit of suspense thrown in, a gorgeous hero and a heroine who is strong and beautiful, Rose Gordon has returned home to Barrington the property that has been in the Gordon family for ever after the death of her beloved gramps the last of her family to discover that the will has an added stipulation that rocks Rose big time, how will her and Angus Hamilton get on, who is he really, come along for the journey and see.
Rose is devastated when her gramps passes away, it is a while since she has been home and she feels bad about it, she has been living and working in Sydney but as soon as she gets back to Barrington she feels truly home. The drought has caused many problems for the local property owners and with a big beef consortium buying the properties and there have been problems round Barrington, but her biggest problem is Angus who is now going to be a big part of Barrington she doesn't want to feel anything for him but can't help her feelings.
Angus is the local vet and had built up a friendship with Charlie Gordon, they had become good friends and Charlie worried about his granddaughter Rose and set is new will up to help her keep the family property as best he could, but Angus is drawn to the feisty beautiful woman and as they get closer there seems to be a lot pulling her back as well.
Trouble is brewing at Barrington and no one can work out who the culprit is only that Rose seems to be in danger, Angus stays as close he can but with rumours telling Rose totally different stories about Angus their journey to a HEA is fraught with many ups and downs and lots of danger.
I loved seeing Rose and Angus find their HEA a lot was put in place to stop them but in the end love won through and I was cheering them one. This is a fast paced story filled with love, emotion and danger, Susan Mackie has bought her characters to life on the pages, made them real and easy to be friends with, I do highly recommend this one and I am looking forward to book two in this series another trip to Barrington will be fabulous.
Rural romance at it's best!
Charlie's Will is a rural family fiction tale with a dash of intrigue, a burst of romance, a dust of country, a shower of drama and a whole lot of greatness.
Rose returns home to attend her grandfather's funeral.
The grandiose Barrington Homestead and land is where her family have lived for many decades.
When she attends the reading of Charlie's Will, it's not what was intended.
The mysterious Angus Hamilton is a huge part of Charlie's final decision and Rose can't help find the handsome stranger very appealing and attractive.
Rekindling friendships and dealing with issues on the farm, Rose's attraction to Angus becomes deeper.
But something evil is lurking in the dark and bringing with it a whole lot of trouble.
This is book one in the Barrington series.
A great debut with loveable characters, typical country banter, a believable romance and a plethora of sweet farm animals.
Susan's calming easy going writing style makes the reader feel like part of the melodrama, getting an eye witness to everything going on.
The estate has a presence of its own and is a vital part of the story.
Rose is a strong lead and with her sassy attitude you can't help but feel a connection with.
Overall for a first novel it's strong, fun, captivating, charming, enjoyable and gets the mind working.
My only issue is I wanted more and I'm looking forward to reading many stories from Susan.
One of our favourite bookclub reads!
The Book Bitches Book Club all agreed that we absolutely loved Charlie's Will and that for a book classified as rural romance (a genre that none of us normally read) that it had a brilliant plot and excellent characters; leaving us all highly anticipating the next book in the series.
In fact, we all felt that it's way too narrowly pigeon holed as rural romance; because with themes of whodunnit, domestic violence, family and friendship; it's far more contemporary fiction in our opinion.
Either way, the good thing is that there is something that everyone will relate to, which not only makes it an excellent choice for you to read personally, but also as a book club book. Get behind an independent Aussie author and show @susanmackieauthor some love by purchasing Charlie's Will from her website. You won't regret it!